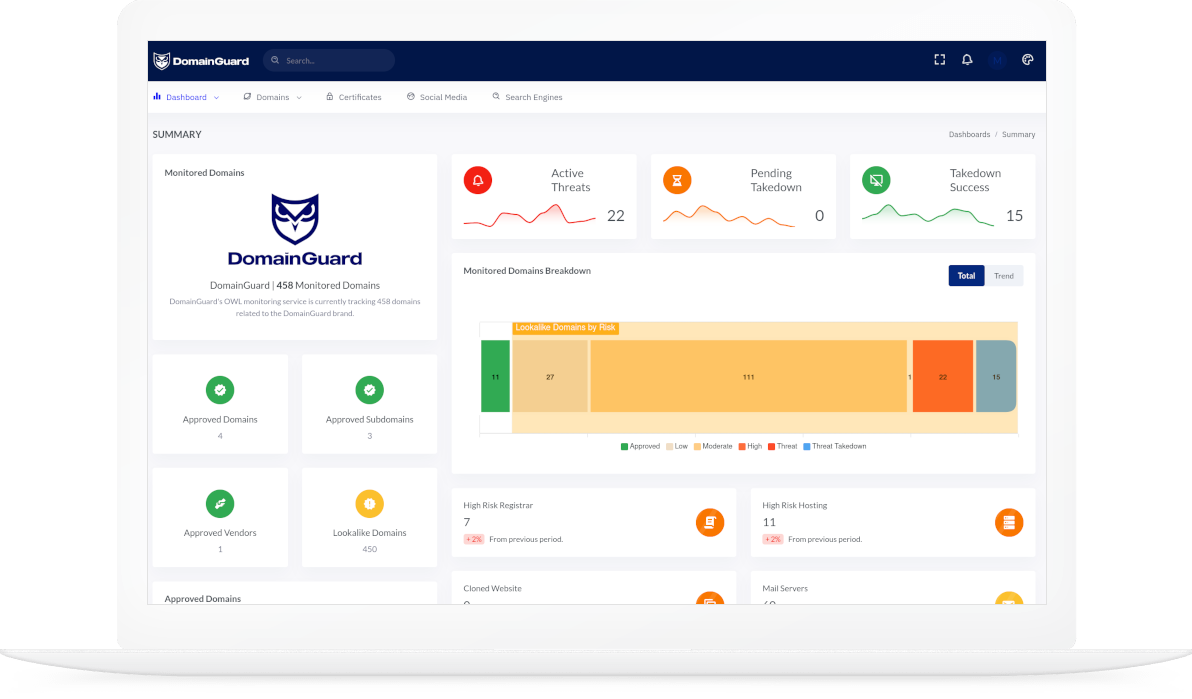 ANTI-PHISHING ANTI-FRAUD PLATFORM
Proactive Phishing and Fraud Prevention
DomainGuard was designed by security professionals to be used by security professionals. Our platform allows you to detect and takedown phishing and fraudulent sites and campaigns.
24/7 Continuous Domain Monitoring
Automatic Takedowns
Tailored Phishing Simulations
On-Demand Reporting
Malist Threat Feed
API Integrations
Why We're Different.
Security First
DomainGuard's leadership has nearly two decades of combined technical security experience.
Certified Experts
Our employees hold industry standard certifications and are based entirely out of the United States.
Intuitive Platform
An intuitive platform built by security experts, for security experts. No false positives, No alert fatigue.
Problems and Challenges
Below are some of the challenges organizations face related to domain monitoring and phishing prevention.
Phishing on the rise
We've seen an increase in phishing attacks in recent years, specifically targeting smaller and medium sized companies. These attacks are also becoming more sophisticated and harder to detect.
Threat actors impersonate your domains and let them age.
Threat actors hide behind parked domains, giving the impression that the domain is benign.
Organizations react to phishing when it's already too late.
Expensive solutions
Cybersecurity is currently a hot industry and as a result many products and services charge a premium. These fees can make it difficult to justify a necessary protection, such as domain monitoring.
Demand for talent
There is currently a shortage of talented cybersecurity professionals in the industry.
Overwhelmed Staff
Handling a few takedowns here and there is manageable, but as this volume increases, your team can become inundated chasing takedowns and managing the takedown request workflow.
Solution
Proactive Phishing Protection
Our technology allows you to take a proactive approach to phishing and identify threats before they strike your network.
Fully Managed Service
Phishing and Fraud prevention is our specialty, so let us handle the detection and takedown, and we'll inform you as sites are taken down.
Affordable
DomainGuard offers a high quality security solution at an affordable price. Being secure shouldn't break the bank.
Takedown Workflow
DomainGuard's intuitive platform allows you to easily track the takedown process from initial domain identification to a confirmed takedown.
BEHIND THE IDEA
Leadership
DomainGuard's leadership team has nearly two decades of combined technical security experience.
From building out red teams used to break into America's most secure organizations to building highly scalable detection solutions.
The Logo
The DomainGuard logo represents an owl in the shape of a shield. In ancient times and across many cultures, owls were revered and associated with protection, wisdom, and prophecy. Owls have extraordinary vision, especially at night. We chose an owl as our mascot because these traits are synonymous with the protection we offer.
DomainGuard continuously monitors your domain, even at night when threat actors are working in other time zones. The prophetic nature of our monitoring allows your organization to identify potential threats before they strike. Damn Good Brand created our beautiful logo and advises us on our brand.
FAQs
Below we've answered questions we commonly receive. If you have any other questions, please get in touch via email.
How do we prevent phishing and fraud?
Phishing and fraud is largely conducted by misappropriating your branding to appear as a trusted site. Anytime DomainGuard detects an artifact related to your brand, we begin monitoring and wait for malicious activity. As soon as our monitored sites display malicious intent, we issue take down requests, limiting the sites impact to your employees or customers, and therefore preventing their phishing attack or fraud campaign.
What is Brand Impersonation?
Brand impersonation is any misappropriation or unauthorized use of your organization's branding. This could be traditional phishing by cloning your company's main site, registering domains that look similar to your organization's domains. We've even seen legitimate banking sites cloned and logo altered to be used as a template for fake banking sites.
Does DomainGuard actively scan our domains?
DomainGuard monitors passive data sources for information relevant to your domain. We do not scan your domains or perform any intrusive testing against your organization.
What tools does DomainGuard integrate with?
DomainGuard provides exports of indicators such as domain names and IP addresses that can be easily imported into other security solutions. For more on this, check out our API Integration page.